From construction to defense to offshore, D-BOX helps bring CM Labs' Vortex simulators to life with real-world motion.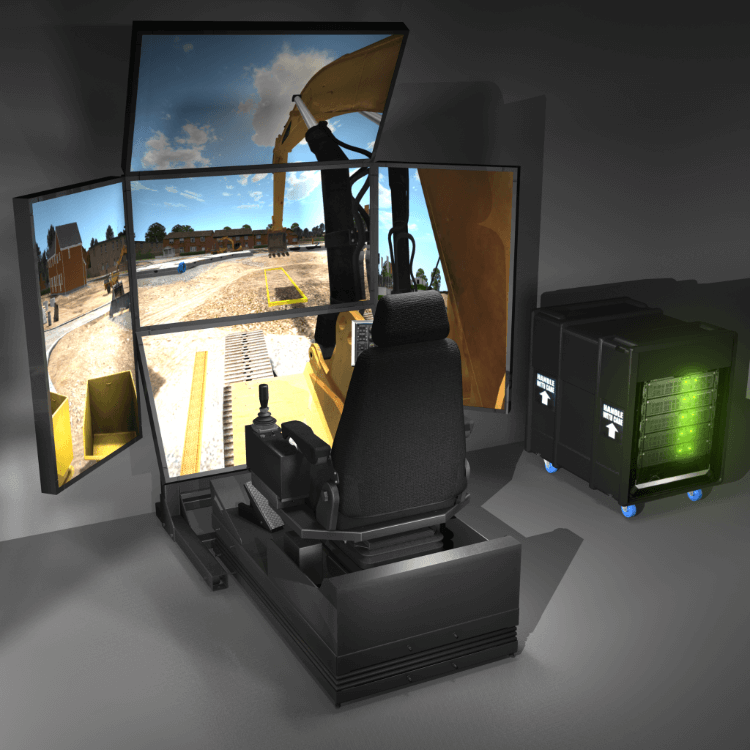 CONTEXT: THE BUSINESS OF SAFETY & EFFICIENCY
CM Labs Simulations builds immersive simulators for any equipment that requires personnel to operate safely and efficiently in potentially high-risk conditions. Every day, operators, soldiers, engineers, and drivers are trained on CM Labs' VortexTM solutions at over 1,000 simulation installations worldwide.
Vortex customers include FMC Schilling Robotics, iRobot, Honda Research, L-3, Lockheed Martin, NASA, Carnegie Mellon University, and over 100 other leading companies and academic institutions.
CHALLENGE: ENRICH THE EXPERIENCE TO FURTHER ENHANCE RESULTS
David Clark, Marketing Communications, has been with CM Labs since 2012 and has seen the value of further enriching their simulators.
"Every single cue counts when it comes to training and trainee buy-in," says Clark. "And any negative cue can significantly derail that progress. So it's important to have as many authentic, accurate cues as possible."
SOLUTION: ADD D-BOX MOTION PLATFORMS
CM Labs have been integrating D-BOX technology since 2011. At the time, D-BOX was the natural choice.
"The cost was reasonable, and it satisfied the requirement for realistic motion."
-- David Clark, Marketing & Communications, CM Labs
"The most important criterion was that we had direct access to the motion code SDK," he added.
Steven Fryer of NCSG Northern Crane was inclined to agree with CM Lab's choice. A crane operator as well as a crane and rigging supervisor, he's test-driven his share of crane simulators. He's often gotten out of the seat feeling underwhelmed, according to a recent story published by CM Labs:
"I've been to these trade shows, and you go from one to the other, you're going yeah, this is not even close. They don't have the movement of the chair, they don't have all the screens, they don't have the real-feel controls, the real-feel chair…"
RESULTS: ADDED REALISM FOR MORE EFFICIENT TRAINING
In CM Labs' tower crane Vortex simulator, structural properties of the boom are modeled so lifting a heavy load causes boom deflection, which is felt by the operator thanks to the D-BOX motion platform. Collision or other shock loads are also simulated, and both visual and tactile feedback is provided to the operator, providing mutually reinforcing cues for the full immersive experience.
Reception has been very positive regarding the realism of the movement; now over 75% of CM Labs' non-desktop simulators feature a motion platform from D-BOX Technologies.
And reception from Clark himself has been positive as well.
"D-BOX has always been very willing to collaborate with us, and to address our concerns and questions."
-- David Clark, Marketing & Communications, CM Labs
CM Labs knows that motion is a great way to enhance the user experience, which is why they plan on delivering even more simulators featuring D-BOX motion!