Precision Flight Controls, inc. soars ahead of compliance requirements with D-BOX motion systems.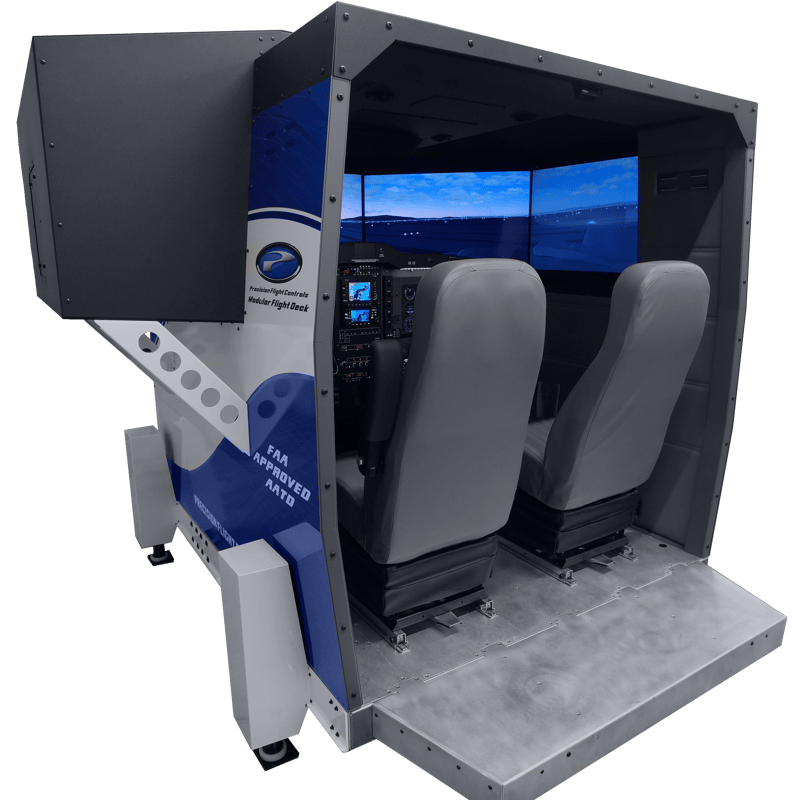 CONTEXT: A LONG HISTORY OF AVIATION EXPERIENCE
Precision Flight Controls, the industry-leading manufacturer of flight training devices, are early adopters of D-BOX technology.
Mike Altman, CEO of Precision Flight Controls, has experience with Mike's Military Aviation, General Aviation and has more than 25 years in the business. His background demonstrates the quality and performance that goes into all Precision Flight Controls simulators.
"We know what our customers want and what it takes to train pilots," explained Altman. "D-BOX has become an integral simulation component significantly enhancing our flight simulation product line."
CHALLENGE: ADD VALUE TO AVIATION TRAINING
Not all flight simulators require motion to meet industry standards. In fact, the majority of simulators built by Precision Flight would be up-to-code without them. But as an experienced flyer, Altman knows the value of motion simulation in training.
SOLUTION: USE D-BOX MOTION TO ENHANCE TRAINING TRANSFER
Altman discovered D-BOX at a trade show in San Jose, CA in 2007. And while he wasn't immediately looking for a motion solution, he was intrigued by D-BOX. Knowing firsthand the impact that effective motion simulation can have on pilot training, he approached us to find out what our motion technology could do for his simulators. Today, almost every cockpit simulator built by Precision Flight comes equipped with D-BOX.
"Reasonable distractions like turbulence, engine vibration, and parasitic drag are important elements for flight training. D-BOX motion adds to the richness of the training experience. We integrate D-BOX in every opportunity."

Mike Altman, CEO, Precision Flight Controls
RESULTS: TRAINING WITH TRUE-TO-LIFE MOTION INCREASES PILOT UNDERSTANDING OF PLANE
True-to-life motion simulation is especially crucial when training pilots on "instrument only" flights – when visual cues are minimal, pilots must rely on their instruments for feedback. Equipping the cockpit simulator with D-BOX motion allows the pilot to feel the motion cues associated with engine failure or heavy winds through simulated changes in pitch and yaw. These are the cues that prompt them to do an instrument scan to get a better understanding of the situation – an instinct that will be crucial when they leave the simulator for a real cockpit.
"Every pilot who's trained with the motion loves it. Experiencing it firsthand really changes their view of it. It's very easy to integrate, you don't need to be an engineer. Along with the ease of integration and the open API available with D-BOX motion, we can deliver out-of-the-box solutions with many of the most commonly used engines, making it an ideal solution for almost any flight simulator."

Mike Altman, CEO, Precision Flight Controls
His clients couldn't agree more. Roger Samson, Operations Manager at Orizon Aviation Québec, had this to say about their Precision Flight simulator:
"The DCX MAX will be used for basic and advanced flight training (high altitude transition, GPS-RNAV, emergency procedures, introduction to turbine engines, air interview preparation, etc.) In addition, it is the first simulator to be approved in Québec City. We want to offer an IFR renewal service for all of eastern Québec province, including the beautiful city of Québec. With approval of the PC-12 and B200 turboprop, we are the only flight school to offer advanced training on complex aircraft. The DCX MAX is very easy to use and the Precision Flight Controls' team is very competent. We certainly intend to cultivate our business relationship with this company and invest more in the near future. We are very proud and happy to contribute to the success of our pilots. Thanks to the DCX MAX, we have raised the bar!"
Asked for his overall impression of D-BOX technology, Altman said, "they've always provided us with great service. They've got great people. We'd never go anywhere else."