Raydon works with D-BOX to integrate motion into their gunner platform and creates an unequaled VR training experience.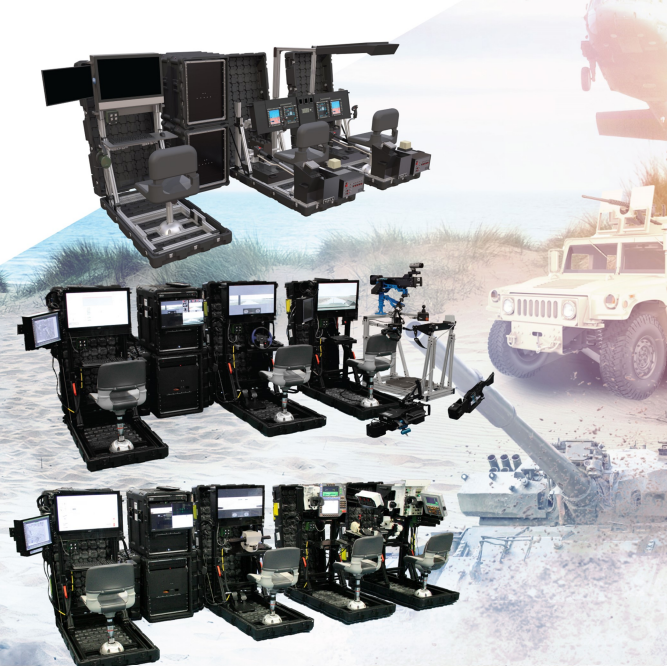 CONTEXT: A MYRIAD OF REALISTIC SENSATIONSON
Most marksmen would tell you that fog of war and information overload are their true enemies. Gunners are either over stimulated with a barrage of visuals and radio communications, or their skills are severely tested with a limited vision of the sight line. Add to that the constant challenge of staying balanced on a moving vehicle and the need for a superior simulator becomes all too urgent.
For a variety of reasons, most VR simulators have been unable to effectively deliver the myriad of realistic sensations and lifelike circumstances that a gunner would experience on an unstable vehicle. While most gunnery tasks can be effectively trained without motion, the use of motion dramatically increases user immersion and the opportunity for a positive training effect. Motion is a tool to increase user beliefs during training and a critical bridge between VR and reality.


CHALLENGE: CREATE A REALISTIC TRAINING ENVIRONMENT
When RAYDON planned for a world-class upgrade option to their field proven UGT-I™ training product, the objective was clear from the start: They wanted to open up new possibilities of what can be achieved in gunnery training by combining innovative commercial technologies, skills and experience to immerse trainees in an unparalleled, true-to-life virtual reality environment.
SOLUTION: D-BOX HAPTIC MOTION PRODUCTS
The choice to use D-BOX motion products was an easy choice for RAYDON due to D-BOX's history of high performance, reliability, and ease of integration. During integration and product lifecycle testing, the D-BOX product lived up to its reputation. The result is a cost-effective upgrade option to the RAYDON UGT-i™ that improves the effectiveness of a successful training product. D-BOX technology played a critical role in the product upgrade.
RESULTS: TRAINING THAT MEETS REQUIREMENTS
The RAYDON UGT-I provides training based on the TC 3-20.31, Training and Qualification Crew, gunnery standard and supports the M2 .50 Cal, MK19, and M240B weapons. The training system enables units to train individual gunners on an Army-approved simulator capable of a system-generated Gate-To-Live-Fire for Mounted Machine Gun training. The product also scales using additionally available RAYDON products to provide Crew and Platoon mounted machine gun training.
The results have been exceptional and will prove to be a popular attraction at this year's IITSEC conference.