Adding the motion component to make virtual reality usable for training.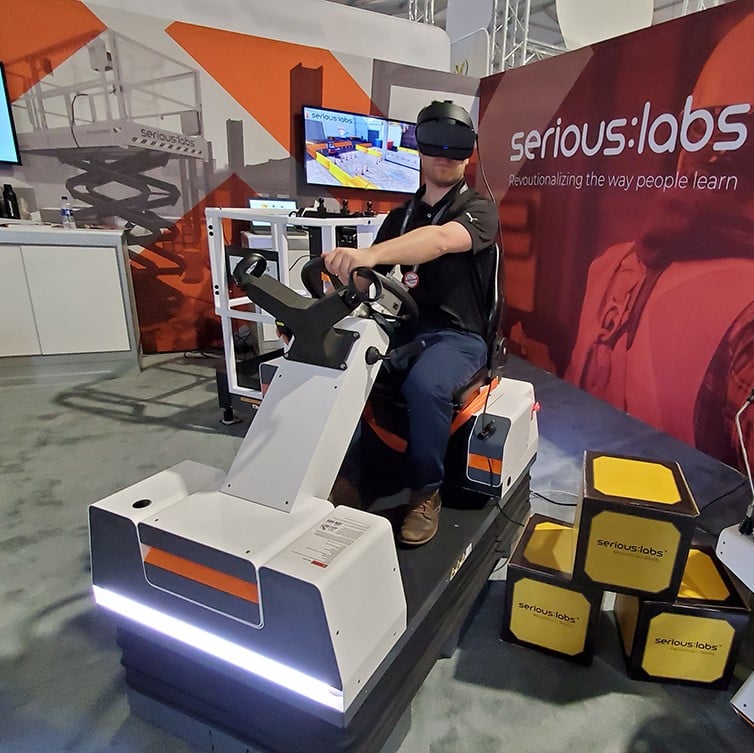 CONTEXT: A FOUNDER'S DREAM COME TRUE
Serious Labs develops simulation and gaming techniques for training employees in the global construction, mining, and oil and gas industries. Research has shown that real-time training improves skill development and helps trainees retain knowledge better, too.

Simulator designer Andrew Czarnietzki thinks simulators are "powerful," "awesome" and "great." In fact, he'd like to "fill classrooms" with them, he says. But, he is the first to admit that their size and cost get in the way of this dream.
Luckily, at Serious Labs, co-founded by Czarnietzki, a new simulator will improve accessibility to simulation training. It is one of the newest generations of smaller, portable motion simulators that is making Czarnietzki's dream come true.
CHALLENGE: MISSING THE KEY TO KINESTHETIC SKILLS
Although the benefits of real-time training are multiple, one thing had been missing at Serious Labs: motion. Without it, users missed out on developing the kinesthetic skills they needed to solve on-the-spot problems by feeling the sensations of accelerating or driving machinery. Furthermore, trainees using highly immersive VR Headsets might experience simulation sickness if visual and motion cues are mismatched.
Serious Labs experimented with adding motion to its different training simulator technologies, including products for underground mining, construction, and oilfield development. To offer an effective training, the company needed to create a simulator that allowed users to feel both the mobile equipment, such as an aerial work platform, and the stationary equipment, like a well service Snubbing rig.
"Trainees need to understand what it's like to feel suspended in the air in a basket, as well as what it's like for the steel to bounce in the wind," said Czarnietzki. Even for stationary applications, where workers are standing on a piece of oil field equipment, they are still connected to what's happening kilometers underground through vibrations they feel through their feet.
SOLUTION: HIGH-FIDELITY HAPTIC MOTION
That's where D-BOX comes in. Affordable and easy to integrate, D-BOX's Motion System uses high-fidelity motion cueing to replicate vibrations and create true-to-life immersive effects. In what Czarnietzki called "a very successful pilot project," D-BOX's open communication standards and API integrated easily with Serious Labs' software.
"You don't have to reproduce the actual motion – just generate the cueing for the brain to be tricked," Czarnietzki explained.
Adding to the new simulator's appeal is its affordable price, which helps Serious Labs make the technology more accessible to more trainers.
"D-BOX allows us to bring our training to a price point that reaches a lot of people."
Andrew Czarnietzki, Co-Founder, Serious Labs
The key to D-BOX's advantages is the fact that it makes simulators that are easy to deploy. Czarnietzki loves that the new simulator is small in size, making it easier for trainers to move and set up. "You can fit it through the door of an office building," he explained.
RESULTS: LESS MOTION SICKNESS, MORE SAFETY AND MORE IMMERSION
To date, Serious Labs' demonstration simulator has debuted at a number of safety conventions including the American Society of Safety Engineers 2016 Professional Development Conference & Exposition. According to Czarnietzki, it has received "overwhelmingly positive" attention from more than 500 safety or industry professionals.
"Ninety-eight per cent of people have no problem consuming the content and generally leave with a big smile on their face," said Czarnietzki.
Serious Labs is also currently working with D-BOX's team to optimize signals and synchronization in the new simulator. This will alleviate simulation sickness caused by using VR Headsets mismatching the physical motion of a moving vehicle. Thanks to Serious Labs' collaboration with D-BOX, using the Motion Cueing Systems from D-BOX solved this problem. Czarnietzki said that these days, only a tiny percentage of people who try the new simulator become slightly dizzy at most.
As Czarnietzki and his colleagues perfect the simulator, Serious Labs is working on a plan to produce more. Czarnietzki sees a bright future with D-BOX as the two companies work together to create the simulators of the future.
"Adding motion to these virtual training simulators lets trainees be immersed in their training curriculum in a very natural, comfortable and easy-to-deploy way. I am very excited for the future of virtual reality, and I feel that virtual reality with motion is making simulator training efficient and exciting."
Andrew Czarnietzki, Co-Founder, Serious Labs