Thales helps its customers to create a safer world by giving them the tools they need – including D-BOX motion systems.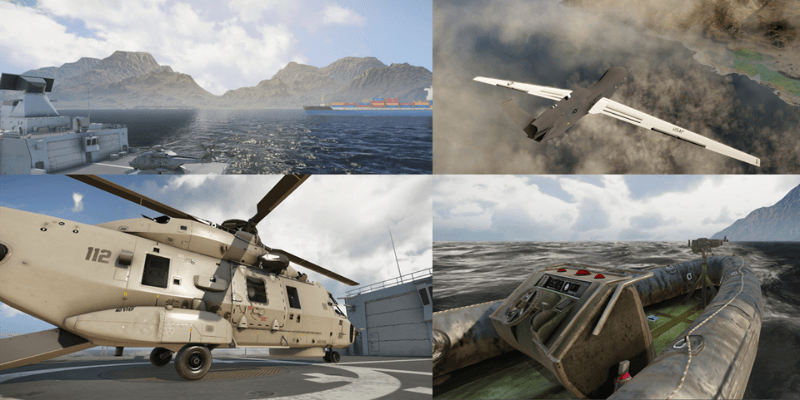 CONTEXT: MOVING-VEHICLE TRAINEES
At Thales Electronic Systems GmbH, Marco Zender is the product manager for SAGITTARIUS. Among his responsibilities are overseeing all R&D projects, so he's intimately familiar with the simulators Thales produces – for all environments and in all stages.
SAGITTARIUS covers three main pillars for gunner training – land (on vehicles such as Humvees), air (helicopters), and sea (on speedboats and other small rigid watercrafts).
The main objective is not to train the driver but train the gunner on board of such a vehicle, said Zender.
CHALLENGE: CHANGING TRAINING REQUIREMENTS
Thales is perhaps best known for their Sagittarius program, launched over 20 years ago. The SAGITTARIUS Evolution is a small arms trainer that covers all areas of marksmanship training, and can be used for law enforcement applications, close quarter combat, and full military battlefield engagement training. SAGITTARIUS Evolution provides both virtual and live firing training capability for individual and unit training.
In recent years, the shooting doctrines and training have changed from far distance to close quarter battles, and requirements have changed to reflect this. This is why Thales trains its users in marksmanship, weapons handling, in how to communicate with team members, technical training, close quarter combat training, judgmental training and behavioural training.
SOLUTION: D-BOX MOTION TO ENHANCE VEHICULAR TRAINING
Where D-BOX comes into the game – or serious game – is vehicular training," said Zender.
"The benefit of the D-BOX platform is that all you need is a very simple mount with a gun on it, and you'll be up and running. That can't be done with a classic hexapod platform because it lacks the deployability that D-BOX motion systems offers."
--Marco Zender, Product Manager, SAGITTARIUS
Customers around the world are clamoring for motion, and Thales is ready to offer it.
"They want to do more realistic training, especially gunner training. Think of how challenging it is to reload and aim a weapon on a moving speedboat. This is why they're putting a gunner on a motion platform. These requests are coming directly from customers," said Zender.
RESULTS: RELIABLE & ADVANCED TRAINING
Overall, their experience with D-BOX has been incredibly positive. "The products are reliable, the corporation is hands-on, and the customer service is very good."
"We chose D-BOX because it fulfills the basic requirements for gunner training. Trainees need to feel vehicle feedback when they actively re-aim at targets. D-BOX does this very successfully. When you compare it to other motion platforms, the price is better and you get the fine vibration cues which add realism to the 3DOF. For the low to mid-range market, D-BOX is absolutely the right product."
--Marco Zender, Product Manager, SAGITTARIUS
To date, Thales has more than 260 simulation systems running worldwide, and operates in 9 countries worldwide, including Germany, the Netherlands, Saudi Arabia, India, Japan, and Ireland, with more certainly to come.